What you need to know about domain names, how to find the cost and choose the right one, and the steps to take to check avilability of domain name and steps to register your domain.
Do you want to earn online through mobile? Do you want to earn by starting a blog or a new online business in 2023? If you do, then you'll need to register and buy a new or existing domain name, the name for your website. I will give you step by step guide, how to buy or register a domain name for your website. Before going to this article you first read How to Choose the Best Domain Registrar in 2023
The first step towards building a website is to find and getting the right domain for your needs. Registering the right domain for your needs might be sound difficult at first time, but the process is pretty simple.
In this article, I will show you step by step guide to how to register a right domain name. This domain registration guide in this article will tell you what you need to know about domain name extension, how to choose the right one for your website or blog and the steps you will need to take to check if a domain is available and to register your domain. We will also given a tips on how you can register a domain name for free from various hosting companies.
This article contain full information about how to buy or register a domain to start a blog. We have created a table of contents here so you can easily skip and read the section of this article that your are most interested in.
Table of Contents
Before we get started, let's cover the basics so we're on the same page.
What is a Domain Name?
Every website on internet is having IP Address and a domain name is the digital address of this website that people type in the browser to visit your website. For example, mobilebolgmoney.com. This digital address identifies the presence of website on the internet.
These addresses point to a website location. This IP adders is generally a set of number. Each computer on the internet is assigned a number i.e. called IP Address. It looks like 66.192.106.1
It is very difficult to remember this IP Addresses. To fix this problem a structured called the Domain Name System which is also known as DNS is developed.
It translate those IP Addresses into easy to remember names. Those names are called as domain names. These domain names helps business owner to create brandable named for their websites.
People enter this domain name into address bar on their browsers to point it and see your website. Because of this your domain names are very important for building a strong online presence on the internet.
In the simplest terms, if an IP address is your website's GPS coordinates, the domain is its street address. Some examples are mobileblogmoney.com and google.com. When someone types a domain name in their browsers, they gets routed through DNS server which translate the name to figure out which IP Address it point to. Then it fetch the data for that website and shows to the end user of this website. This process happens in a very few seconds.
When Do You Need to Register a Domain Name?
Whether you want to start a personal blog website, a business website or want to sell products online through e-commerce website, buying your domain name early is essential.
Latest internet usage researches says that, there are currently more than 370.3 million registered domain names in the world and out of it more than 39 % domains are from the top-level domain which is also called as (TLDs). The internet is growing, as the number of domain names has grown by 13.2 million since last year and there are 34000 new domain registration per day.
The internet is very vast. Branded and most disable domain names get snapped up quickly. By registering domain name early, you ensure that it will available and ready to publish your information and product quickly. Even if you are not planning to build a website immediately, reserving your domain name is wise move to prevent other from taking it.
Because someone may register a domain name while you are thinking about it. So it is smart to register a domain name as soon as possible after getting idea in your mind. This is why all all successful and smart entrepreneurs immediately register domain names even before launching a business.
Prices of the Domain names are very cheap, and you can buy it for year or more than years. If you not want to start a website on this domain name, you can sell it to another with profit or let them expire after a year.
The bottom line is, you should buy domain name as soon as you get an idea to start a business. It will protect your business identity on the global lever. You can use this domain name to get profit by building website on this domain name or sell it to anyone with more price.
How Much Does a Domain Name Cost?
You can buy or register a Domain name through domain register such as Hostinger for one year. You will be able to renew it after one year. Domain registrar will remind you before the expiry date of the domain name. You also have choice to register for multiple years.
There are tow types of domain name – 1)Second-Level Domains (SLDs) and 2) Top Level Domains (TLDs). Top Level Domains are also referred to as domain extensions such as .com, .net, ,edu, ,org, .gov etc. Normally, Top Level Domains are preferred to register by all people.
The most popular a .com domain name costs up to $14.99 / year, and promotions are also available. Domain names are also included in your web hosing plan. Some hosting provider companies provide it free for one year like Hostinger. The cost of a domain may different according to different extension or TLD (top-level-domain). Some are even more expensive than this.
We recommend you to buy domain names such as .com, .net because everybody remembers this domain name and your smartphone keyboards have a pre-built key for .com.
Do I Need a Website to Register a Domain Name?
After buying Domain name you can build a website later. So you need not a website to register a domain name. You should buy or register a domain name and setup a temporary website or under construction or coming soon page on it.
As mentioned earlier lot of people or entrepreneurs register a branded and good domain name, hold it for a year and sell the the right buyer at the profitable prices.
How to Choose The Best Domain Name?
Domain names play a very important role and have a major impact in your website's identity and success. Choosing a domain name for website is vital fist step in building your brand.
Finding the perfect domain name is a challenging step. But do not overthink, I will give you step by step guidelines on choosing the right domain name in this article.
Make sure that domain name is brandable, not generic. It should not sound a little spammy and terribly generic like – cheapcarinsurance.com and afordableautoinsurance.com. Think of domain like progrssive.com or geico.com. Those companies have invested in their brands and used them in their domain names. It trust to the people that website is legitimate. Make sure that your domain name is short and very easy to spell and pronounce. Even if you have not built any brand yet, you can start choosing a strong domain name that fits with your futured brand name.
Make sure your are picking the extension or TLDs for your domain names such as .com. This is still the best choice unless you have reason to pick another one. Many people trust on this TLDs and find very easy to remember than any other domain extensions like .biz, .us etc.
Make sure that domain name length is short as possible. Search engines like google make preferences to website name which are short in length. URLs that are using number and special characters having effect on ranking in search engine rankings. Your domain name should be as short as possible while capturing the brand name of your business. Short domains are easier to read have better chance to fix in mind of the users. So, What is an acceptable length? Domain name length should be between 6 to 14 character with focus on the shorter end of that range and that include brand name.
Whatever domain name you choose, it should be memorable and very simple enough for users to spell and type. To test this you write down this domain name ask your friends to pronounce. If they do not struggle to pronounce then domain name will be ok.
If you filled your domain name with number and dashes, imagine about your friends that how they pronounce your website name. So do not use number and dashes in your domain name.
The most important thing to remember that your domain name should free of trademark infringement. Your can use names of trademarked words, it will get you involve in a lawsuit and cost. To avoid this situations use trademark lookup tool and check for trademark infringement before finalizing the domain name for website.
How to Register a Domain Name (Step by Step)
Ok now your have list of list of catchy, memorable, branded, and short domain names. but you don't know how to buy register a domain name. We here providing you steps by step guide for buying and registering your domain name.
1. Choose a reliable domain registrar
Internet Corporation for Assigned Names and Numbers (ICANN), is the nonprofit organization responsible for coordinating all of the numerical spaces on the internet. Domain Registrars are authorized by ICANN to register a domain for your.
You can register a domain name from any of this register. Some of the very popular Domain registrar are Bluehost, domain.com, GoDaddy, Hostinger, Network Solution etc.
2. Find a domain availability checker tool
You have number of catchy domain names to register. The next step is to search that domain names availability using domain availability checking tool. Almost all Domain Registrar are providing this facility. You can make use of it. This will tell you if the domain you want is available or not.
3. Choose the best domain name option
While searching the availability of domain name you'll often find that your first, second, and tenth choices are already taken. So keep searching using following tips up to final result.
Keep searching. Be patience and continue to search until you find something you love—or at least like.
Choose another extension. If the .com isn't available and you're set on a certain name, consider the .net or .org if you think it will work.
Reach out to the owner. Maybe the domain is already owned, but it's not being put to much use. You could reach out to the owner with an offer.
4. Purchase your domain name and complete its registration
Once you find out the available domain name, it's time to purchase it. I have given step by step process to buy domain name form various domain registrars.
During the checkout process, you'll be required to enter your contact information, including an email address, to register the domain.
5. Verify ownership of your new domain
Paying for your domain might seem like the last step in the process, but you also need to verify your ownership. This process is very simple. You'll receive a verification email from domain registrar after you complete your purchase.
Simply click on the Verify Domain button in the email and follow the instructions on the next page, and you can start using your domain to build your brand. You'll only ever have to complete this step once.
Buying a domain from another person
If your preferred domain name is not available, it is owned by someone but it is not used by anyone to build the website, you can contact that person and buy it from it. Here is the step by step process to buy domain from another person.
1. Find the owner's contact information
Locate the owner of the domain by looking up their contact information through the WHOIS directory. If it isn't listed, you may be able to contact them from information you find on the domain's website.
2. Negotiate a fair price
Once you make contact, offer a fair price for the domain. If you aren't sure about a price, do some research. You can even hire a broker to facilitate the deal on your behalf if you want the domain badly enough.
3. Complete the sale using escrow
Avoid wiring money to a stranger on the internet. It's just a bad idea. Instead, use an escrow service to ensure that both parties are satisfied and your sale is as low risk as possible.
How to Register a Domain Name for Free with Bluehost
Bluehost is having hosting business since 2003 and one of the biggest web hosting company in the world. They are having great customer support. They also offer free domain name with hosting services.
Bluehost offers two account management interface options; one is original 'Rock' control panel and another is 'Account Manager,' an updated control panel designed for simplicity.
While management options are generally the same across interfaces, the location of specific settings may vary between the two. Please see Account Manager vs. Bluerock to determine which step to follow.
Account Manager
Log in to your Bluehost control panel.
Click the Domain Name tab, and select Buy Domain Names.

Enter the domain name you want to register for and click Search for Domain.

Once the domain name shows available to purchase, click Continue.Note: We recommend adding Private Registration to protect your personal information online. You can add it later once you're decided to add one to your domain name.
Apply payment details and click Submit and Process Payment.

Bluerock
Log in to your Bluehost control panel.
Click the Domains tab from the left-side navigation.
Click the Purchase Domain option from the sub-navigation.
Enter the domain name you would like to register, then click Check.

Click the cart icon next to an available domain, then click Next.
Review the Registration Settings and click Add to Cart.
Apply payment details and checkout.
How to Register a Domain Name with Domain.com (25% Off)
If you only want to register a domain name with domain.com it will be the best choice.
It offers an easy way to manage your domain name without creating a website.
Log in to your Domains Dashboard.
Click on the Purchase Domain button to get started.
Type in your preferred domain name. As you type, a list of suggested domains will appear below the search field. Click Add to select your preferred name and domain.
Click the Shopping Cart icon on the upper right, then click Go to Cart.
To complete your purchase, review your payment information and the items you have in your cart. From here, you can select the number of years you want to own your domain and add other recommended add-ons like G Suite and Privacy + protection.
To finalize your purchase, click the Purchase Items button in the Price & Checkout section.
You will get a Thank You message after a successful purchase. Click Go to Domains.
Here, you will see the list of domains that you own and manage.
Note: It may take up to 30 minutes to update your purchase.

How to Register a Domain Name with Hostinger (Free)
Hostinger is also a well-known place to register domains and run websites.
When you buy one of their web hosting plans, which start as low as $2.69 per month, you get a free domain name.
You'll also get a free SSL certificate, a free business email address, and more, in addition to a free domain name.
Hostinger is a great option to Bluehost if you want to make a website and get a free domain name.
When you buy a new Premium Web hosting plan (or higher) for 12 months (or longer), you get a free domain name for a year.
When you choose a hosting plan that includes free name registration, you'll see it in your cart:
You'll be able to register the preferred domain name for free after successfully completing the payment for the hosting plan. To be more specific, you can claim the domain while setting up your hosting plan:
Alternatively, you may do that at any later time from the Members Area of your Hostinger account:
Now you know how to claim the free domain that comes with your new hosting plan.
How to Register a Domain Name with Network Solution
Network Solutions is a well-known company in the domain name business. They have been registering domain names since 1993, and at the time, they were the only ones who could do it for all of the most common domain name forms.
They have registered more than 7 million names and are now one of the biggest domain providers.
They offer domain name registrations with a simplified control interface and basic domain management tools.
Here's how to create a domain name with network solutions.
You must first go to the Network Solutions page. From here, you need to type the domain name you want to register into the search box.
If the domain name you want is still available, it will be added to your cart by itself. You'll see a message that says "Success!" and can then click on the "Checkout" button to go to the next step.
During the checkout you'll be asked to sign in if you are a returning customer or continue as Guest.
Next, you'll be offers to turn on domain privacy addon. We recommend skipping it as of now and add it later if you need.
After that, you will be offered to add other products to your cart as well. Skip them by clicking on continue under the 'Domain Only' box.
Finally, you'll be offered to enable domain protections such as premium DNS (Domain Name System) and malware protection add-ons. You can skip them for you now and later add them if needed.
Finally, you will reach the check out page. From here you can redeem our Network Solutions coupon to claim your 25% discount and then make a purchase.
After that, you can continue check out to make payment and complete the domain registration.
How to Register a Domain Name with GoDaddy
GoDaddy is the largest registrar of domain names in the globe. Currently, they manage more than 77 million domain names for 18 million consumers worldwide.
When you are ready to construct a website, you can assign your domain to any hosting provider using their simple domain control interface.
Here is a step-by-step guide to registering a domain name with GoDaddy.
1. Enter the domain name in GoDaddy's domain name search bar.

2. Click Add to Cart.
3. If desired, register additional extensions to protect your online brand. Click Add to Cart for each additional domain name.
4. Click Continue to Cart.
5. Select a domain privacy plan, or click No Thanks.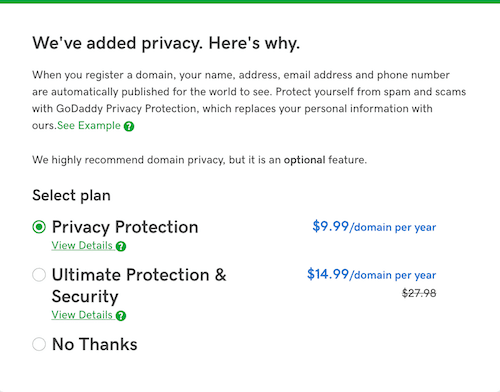 6. Decide if you want to attach your domain name to a free starter website.

Keep the box checked for "Start your website for free" if you want to attach your domain name to a free trial of GoDaddy's Website Builder. Uncheck the box if you want to pass.
7. Decide if you want to attach your domain name to a professional email address.
Choose from three professional email plans or keep the box checked to No Thanks.
8. Click Continue to Cart.
9. Sign into your GoDaddy account or click Create Account.
You'll be prompted to enter your billing and payment information. GoDaddy offers several payment methods so choose the one that's most convenient for you. You will need to provide your billing address but if you've chosen domain privacy in the previous step, that information will not be visible to the public.
10. Review your order under My Items and click Complete Purchase.
Consider buying your domain name for a longer period of time to save money in the long run and prevent your domain from expiring by accident.
Congrats, you now know how to buy a domain name and have a new online personality. It's time to get your business online!
Domain Name Registration FAQs
Below are the answers to some of the top domain name questions:
What is domain registration?
Domain registration is the process of securing a unique web address (URL) for your website on the internet.
Why do I need to register a domain?
Registering a domain gives you exclusive rights to that web address, ensuring that no one else can use it.
How do I choose a domain name?
Select a domain name that is relevant to your website's content, easy to remember, and reflects your brand.
What is a domain registrar?
A domain registrar is a company authorized to sell domain names. They help you register and manage your domains.
How long can I register a domain for?
Domain registration periods typically range from 1 to 10 years. You can renew it before it expires.
What happens if I don't renew my domain on time?
If you fail to renew your domain before its expiration date, it may become available for others to register.
Can I transfer my domain to another registrar?
Yes, you can transfer your domain to a different registrar, but there are rules and fees associated with the process.
What is WHOIS information?
WHOIS information is a public record of the domain owner's contact details, which includes name, email, and phone number.
Can I keep my WHOIS information private?
Many registrars offer WHOIS privacy protection to keep your personal information confidential.
Are domain names case-sensitive?
Domain names are not case-sensitive, meaning uppercase and lowercase letters are treated the same.
Can I register a domain with special characters or spaces?
Domains are typically limited to letters, numbers, and hyphens. No spaces or special characters are allowed.
What is a domain extension (TLD)?
A domain extension, or top-level domain (TLD), is the part of the domain after the dot, such as .com, .org, or .net.
Are there restrictions on certain TLDs?
Some TLDs have specific registration requirements or restrictions, like .gov for government websites.
Can I register an expired domain?
Expired domains may become available for registration by the public, but it's a competitive process.
What is DNS and why is it important for domains?
DNS (Domain Name System) translates human-readable domain names into IP addresses, allowing browsers to find websites.
Can I register a domain without a website?
Yes, you can register a domain and park it until you're ready to build a website.
What is a subdomain, and how is it different from a domain?
A subdomain is a part of a larger domain and is used to create distinct sections or websites under the main domain.
Do I own the domain I register?
When you register a domain, you have the rights to use it for the registered period, but you don't own it in the traditional sense.
How do I renew my domain registration?
You can renew your domain through your registrar's website or by following their renewal instructions.
What should I do if the domain I want is already taken?
If your desired domain is taken, you can try different variations, use a different TLD, or contact the current owner to inquire about purchasing it.
Do you want any other helpful domain name tips? Please Comments